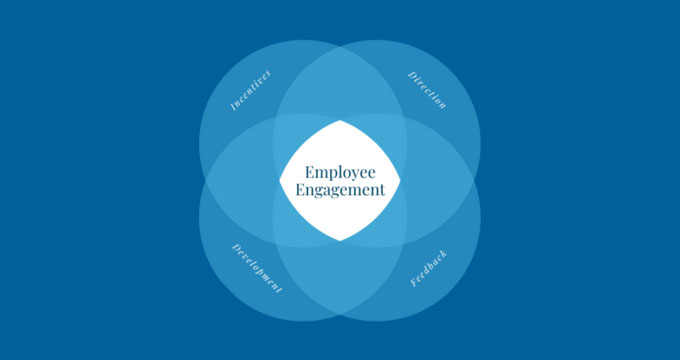 Hiring people has been on everyone's mind the past couple of years. Hiring people for a new position is exciting if it means you are growing your business however, replacing employees that you have invested time and money in training can be frustrating and costly.
As I interview people, I always ask; why are leaving your current position? Especially people who have been in their position for a while and have several accomplishments with that organization. I have received various answers such as: a more challenging position, growth opportunities, and even burn out.
I think about how gaining this talented resource is our gain and that company's loss – but, it makes me concerned about our current talent and how to keep them.
How can you reduce turnover and retain talent in your business? Create an attractive environment that motivates and engages employees. Here are some ideas:
Survey Your Team – One idea to find out what engages and motivates your team is to ASK them. Here are 3 basic questions that can help you get started and determine how involved and enthusiastic your associates are in their work and the business:

I know what is expected of me at work.

Discuss the expectations for each employee with them and paint a picture of excellent performance as well as how their work helps each co-worker to succeed and the overall impact they have on the business.

I have the materials and equipment to do my job.

Its not just a checklist of pens, paper, computers, or tools, it can be any type of supplies, software, or knowledge. Do the they have right settings or permissions to be empowered to do their best work? Ask and listen to what your team needs and advocate for them. Be creative and make the most of your teams' talents and ideas when you can't immediately fund their requests.

At work, I have the opportunity to do what I do best every day.

Given the opportunity to do what they do best, is motivating for employees and they want to stick around. A sense of purpose and adding their individual touch each day is satisfying and encourages growth. Talk to your employees and get to know their talents and skills and how to help them to excel.

Associate Incentives – Create some incentives that keep employees feeling appreciated and having a sense of accomplishment. Here are some low-cost ideas that can have a high return on retention:

Giving Gift Certificates
A Day Off with Pay (PTO)
Taking Them Out to Lunch
Donuts on Friday.
An Employee of the Quarter (an oldie but goodie)
Start a Newsletter and Feature Associate Accomplishments and Customer Comments
Create a reward plan "catch them doing something right" – many companies are working with 3rd parties that offer goods or services that can be "purchased" with reward points. The Reward Plan you come up with can encourage points earned from customer comments, other employees recognizing each other, or from supervisors that recognize employees. Check out reward plans and how to get one started.
Remember, to also say "Thank you" and "Great Job."
When implemented well, these types of incentives can keep employees motivated and looking forward to the work they do.
Development and Mentoring – In a Gallup poll about what are the drivers behind Employee Engagement – 5 key drivers were noted: "Purpose, Development, A Caring Manager, Ongoing Conversations and A Focus on Strengths".

Don't get me wrong a good paycheck is important too!
However, the key drivers that keep people working and achieving more for your business are directly related to with having a purpose and meaningful work.
People want to stand out for the skills and talents that make them unique.
They value relationships with a coach or mentor that can help them to continue learning and growing.
Gallup also discovered: "the manager or team leader alone accounts for 70% of the variance in team engagement."
Offer opportunities for on the job skills training, matching up a new employee with a mentor is a great way to welcome newbies to the company. It has long-reaching benefits too! New team members learn the ropes from experienced employees, and, in return, they offer a fresh viewpoint to their mentors. Don't limit mentorship opportunities to new employees. Your existing staff is ripe for learning more and growing with your business, your overall employee retention and your team's job satisfaction will benefit from mentor-mentee relationships.
Promote from Within – As you are developing and mentoring employees within your business, you are investing in them like any other asset. You are sending the message that when they give their best, they are continuing to learn their job, and they are also growing with your business. That you recognize talent and are willing to promote from within the business instead of looking outside. This is key to employee retention, engagement, and ultimately impacts your bottom line. Happy employees make happy customers.
Open Communication – Communicating and staying in contact with your employees in critical to your business. When employees understand the businesses mission and goals, they can get onboard and truly care about the growth of the business. Make sure employees know you have an open-door policy and it helps you to keep tabs on employee concerns and conflicts. Help associates understand the changes you are making in the business – managing change or not managing change can make the difference in retaining good employees.
Listen and Encourage Feedback – Employees are on the front line with your customers. Often, they have great feedback for you that can make a difference in your customers experience. They may offer ideas for their own job satisfaction, like:

Flexible hours
Inter-department learning: Spending time in sales to learn more about their processes
Create events the business can sponsor and gain more community awareness
So often, business owners don't follow up or share the reasons for decisions and it can leave employees feeling confused and frustrated. Of course, you may not be able to accommodate every request, it's acknowledging the feedback that shows you are willing to listen and be open to ideas. Accepting feedback goes a long way to employee satisfaction and retention.
Communication, mentoring, and creating an inviting environment and culture will encourage employee engagement. You have invested time, money, and resources in your staff, so by implementing some of these employee retention strategies you can help avoid costly turnover and see the positive impact on your bottom-line!