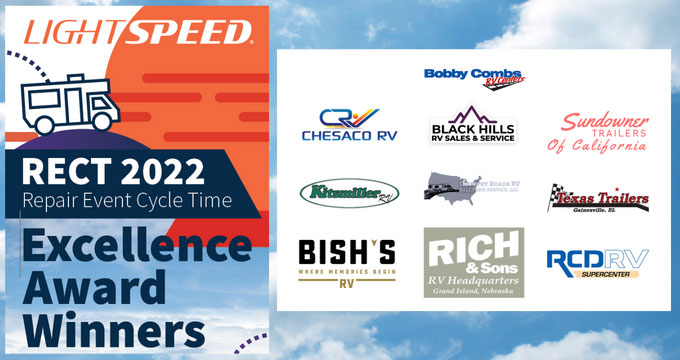 Lightspeed Announces RV Dealer RECT Excellence Award Winners
Lightspeed announced the 2022 RV Dealer RECT Award Winners during the RVDA Spotlight on Excellence Luncheon
SALT LAKE CITY, UT –November 8, 2022 – Lightspeed announced its RV Dealership RECT (Repair Event Cycle Time) Excellence Award winners during RVDA's 2022 RV Dealers Convention Spotlight on Excellence luncheon. The Lightspeed's first annual RECT RV Excellence awards underscore the RECT accomplishments and extraordinary efforts of these award-winning RV dealerships in 2022.
"One of the key elements of goal setting is measuring progress," said RVDA President Phil Ingrassia. "When the industry task force identified R-E-C-T as a key measure, Lightspeed worked to develop R-E-C-T reporting functionality quickly to assure their dealerships had the reporting they needed to identify issues."
"Our valued dealers are a vital component to what makes us an industry leader," says Kris Denos, VP of Lightspeed. "We are in awe of their commitment, grit, accomplishments, and the reductions in RECT that they've been able to achieve. In short, they simply are the best, and they inspire us to do better and be better."
The Lightspeed 2022 RECT Excellence award recipients were selected based on year-over-year improvement in reducing RECT time. RECT remains one of the biggest differentiators for successful dealerships in the RV industry. Managing RECT helps dealers to spot dealerships' service shortcomings and focus on making improvements. Additional benefits of understanding RECT include reducing employee burnout and delivering a better customer experience.
Lightspeed is committed to providing ongoing product innovations to ensure that our dealerships can service units more efficiently and get their RV customers out on the road faster. The winners span locations across the US and represent a wide breadth of dealership size and RV expertise.
The Lightspeed 2022 RV RECT Excellence Award winners are:
Bish's RV; Meridian, ID
Black Hills Land and RV; Piedmont, SD
Bobby Combs RV Centers; Coeur d'Alene, ID
Chesaco RV; Shoemakersville, PA
Country Road RV Sales and Service LLC; Cottondale, AL
Kitsmiller RV; Mason, MI
RCD RV Supercenter; Heath, OH
Rich & Sons Camper Sales; Grand Island, NE
Sundowner Trailers; Auburn, CA
Texas Trailers Sales & Services; Gainsville, FL