In my work with dealers across the country, I'm always amazed at the number of Parts Managers who don't use the Buying Guide built into their parts ordering system. When I ask why they don't use it, I typically get a few responses: either they don't understand how the system works, or they tried it in the past and the results of the initial run were overwhelming.
The Parts department is a support mechanism for the entire dealership. A smooth sales process and service efficiency rely heavily on the Parts department having the items that customers need in stock. And, if you cater to farmers, ranchers, and other businesses, making sure they can quickly return sidelined vehicles to an operational status is critical.
To understand how the buying guide works, you need to complete some setup, and you need to understand how the reordering method works.
ORDERING SALES CURVE
This menu item is found under the System/Ordering Defaults menu. It defines how much each month of the year contributes to the annual revenues of the Parts department. While you can use the data for the prior year, it's usually best to go back and look at an average of the last three years. Once you've generated those sales volumes, it's easy to update each month in the list.
REORDER METHOD
The system looks at one of four options for each part number.
Sales curve
This method looks at the sales history and what the dealership currently has on order/in stock. Select how many weeks/months of parts you want, and it generates a recommended quantity for each part.
Force to one
This means the system will always keep one item in stock, regardless of sales history. I usually only use this when needing to keep one of something in stock (recall item, air filter, etc.). However, Force to one will ignore sales history. When something is on Force, even if you sell 500 a month, the system will wait until you get to zero and then tell you to order one. I rarely use this; once a part has some history, I prefer to use the sales curve option.
Force to zero
Eliminates parts from showing up on the guide. Normally used for old recall parts or items that are either out of their time or that have a large number of historical sales from one single sale.
Min/Max
This defines the low and upper limits of what we can stock. It also ignores sales history. As an example, if Min was set to 3 and Max to 12, when a sale reduces the available quantity to 2, the guide will suggest ordering 10 more to get back to 12. This is probably a better option than force to one, but it also means that these items won't show up in the guide when doing things such as building orders for an annual stocking program, or if sales for a part really take off. And, if the employees placing orders don't pay attention, this option can suggest that we reorder parts that might no longer be needed.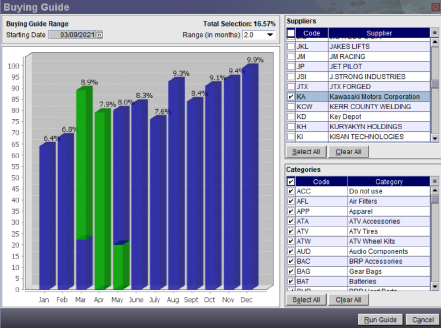 Once you configure the sales curve and have a general understanding of the reordering methods, it's time to run your first order. I would suggest choosing one primary supplier instead of doing a few (or all) of them at once.
You will need to select the time you want to cover. In the example below, I've chosen to run the report to cover the next two months for Kawasaki. Based on the sales curve, that two months equals 16.57% of annual sales in Parts.
The formula for each part is the Total Selection % X R12 Sales – In sight (on hand available + on order) = suggested order quantity. As an example, for a part we that we have 2 of in stock + 2 on order, and we have sold 40 of in the last year: 16.57% X 40 – 4 = a suggested order quantity of 3
There are some other items that can impact buying guide results. The primary ones are similar parts, supersessions, and sales curves for single suppliers/categories. It's also important that the dealership has a good inventory, and that old purchase orders are cleaned up.
Most dealers will be overwhelmed with the results the first time they run the buying guide. This is because they need to do some cleanup work. Some items will need to be set to zero, and you'll find that the other items are ones that should be in stock but are not. Take the time to clean things up, and the buying guide will become a very powerful tool for the Parts department.