It's no secret that the pandemic has created a myriad of sales and service challenges for recreation dealers. While high demand and record-setting leads and sales are great, it comes at a time when lack of inventory, labor shortages, back-ordered parts, and long service wait times make it harder than ever to provide shoppers with a positive overall experience. So how can you make the most out of every prospect touchpoint and easily prioritize hot leads over cold leads?
Enter sales intelligence technology.
In this article, we'll share key tactics and tools specifically tailored to help the RV, marine and powersports industries increase customer engagement to generate more sales and loyal customers.
Prospect Engagement and Follow-Up
The key to mastering a longer sales cycle is to keep your customers informed and engaged throughout the entire buying experience, from the day they submit a lead to the day they walk out of your dealership as a new customer. One of the most effective ways to achieve continued engagement is to have a dedicated contact management process to ensure all leads are contacted within a timely manner.
Spend Your Sales Time on a Hit List With RollickScore™
Lead volume is at an all-time high and it can be difficult for dealerships to prioritize hot leads over cold leads. However, dealers who use Lightspeed now can use lead scoring by Rollick to help identify prospects who are ready to make a purchase decision. Sign up for this add-on service and then train your sales reps to check the RollickScore daily to prioritize the hottest leads that are represented in the 4 to 5 flame range.

Arming yourself with real prospect data keeps your dealership focused on in-market customers who are ready to make their purchase. This helps increase your sales intelligence and likelihood of making a sale sooner. You can also utilize lead nurturing to give customers more time to do research and keep your dealership top of mind for when the customer is ready to purchase.
Track All Prospect Activity in One Place With RollickLens™
Think about the amount of research a consumer performs before purchasing a high-consideration product such as an RV, a boat or a powersports vehicle. From visiting the dealership's website, the OEM website and other third-party sites, there's a lot of information that can sway a consumer's decision. It can create a major advantage for your Sales team if they have a way to track a customer through their shopping and buying process.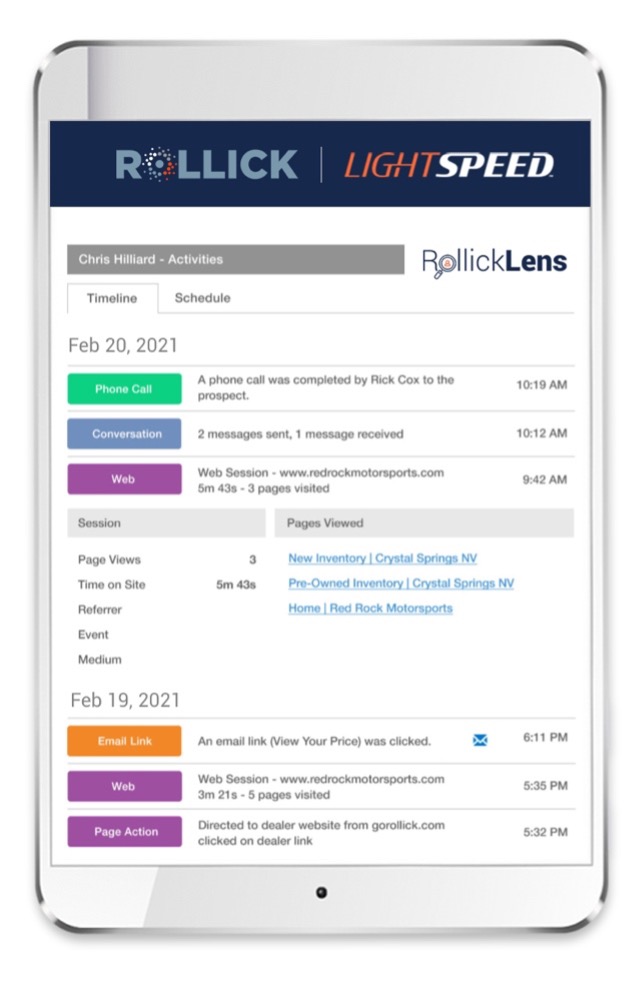 RollickLens is a new solution available for Lightspeed customers. This provides you with a timeline of all activity an individual prospect has had with your dealership over time. RollickLens uniquely tracks engagement activity, such as:
Webpage views on your website, OEM websites and certain third-party websites, such as the Sam's Club Outdoor Vehicle Buying Program website by GoRollick
Lead submissions
Nurture emails and engagement
Concierge appointments
Tracking all these activities in one view will give your dealership a better idea of how close prospects are to a purchase or if they need to be nurtured with additional communications.
Automated Email Lead Nurturing
Sending prospects a series of personalized nurture emails is an excellent way to engage customers over time. Through the Rollick Email Nurture Program, you can use prospect data in Lightspeed to further personalize your emails. Some attributes that can guide the email nurture program include the type of lead submitted, their readiness to purchase from your dealership, or the type of product they are interested in purchasing.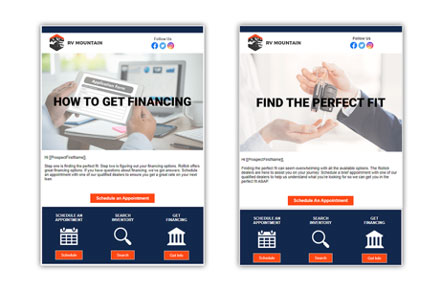 Nurture emails can also be triggered based on where the prospect is at in the purchase cycle. You can find this out by including a "time to purchase" drop-down on all your website forms and feeding that data into your marketing automation partner. For example, if the prospect indicates they are ready to buy now, you can send them automated emails in a condensed time frame with the details they need to make a purchase sooner. This includes the ability to schedule an appointment, information on financing and insurance needs, vehicle buying guides and more.
However, if a customer indicated that they're not ready to buy for three to six months, include information and compelling content on how to best choose the product that will fit their lifestyle. All of this personalization can be automated so you don't have to update or send these emails yourself and risk missing a lead or sending the wrong information.

Concierge Call Center
The simplest and most effective strategy is to ensure each lead is contacted within 15 minutes of initial inquiry. Even if inventory is low or out of stock, this window of time should be used to build a relationship with the prospect. In a comprehensive industry-wide survey, 40% of leads submitted to dealerships never received a call back. It was also found that customers responded to in less than an hour versus an average of 24 hours had a 100% increase in their contact rate.
To accomplish an effective lead follow-up program, each dealership should have dedicated sales staff trained to follow-up with leads in a timely fashion or outsource the work to a concierge call center to field questions and schedule appointments. A responsive follow-up not only increases sales, it also upholds your dealership's reputation with your customer base.
Conclusion
As you can see, using the data you already have available will increase your sales intelligence and keep your dealership hyper-focused on customers at any point in the purchase process. These tools will help your Sales team develop relationships and build rapport with consumers to close sales sooner and create life-long customers.